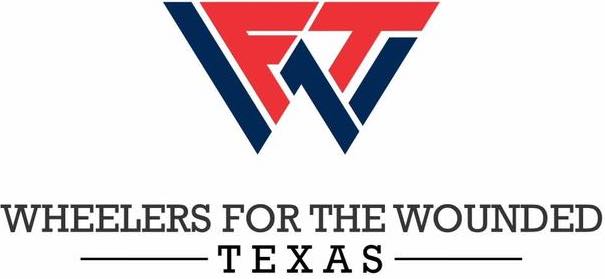 The lucky winner of the custom built 2001 XJ was selected May 6, 2023 at Wheelers for the Wounded – Texas's Main Event at Wolf Caves in Mason, TX. The raffle raised over $20,000 to support services for wounded veterans and their families.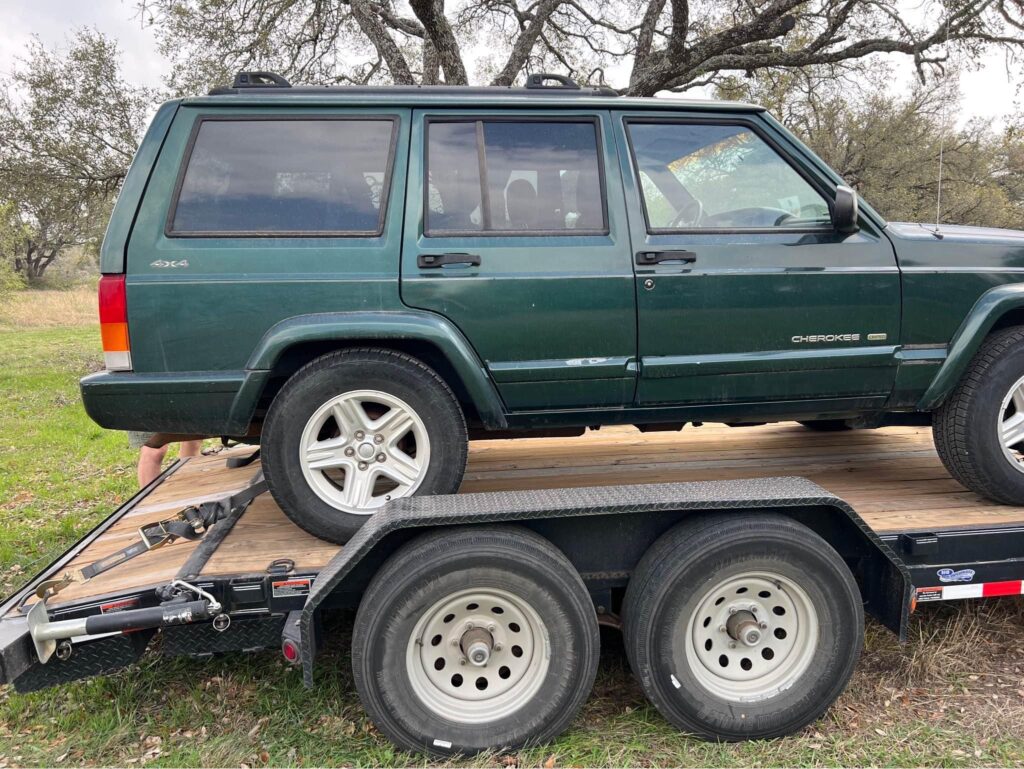 The XJ as it arrived on March 7 at AJE's top secret fab facility located deep in the woods and how she looked less than two months later ready to head to the raffle.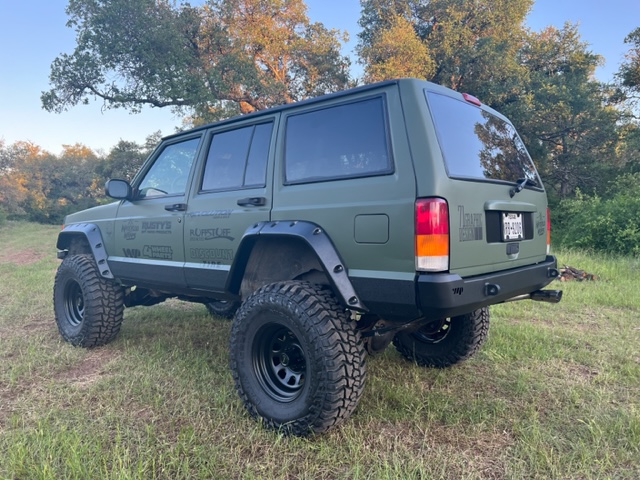 In 2023, Austin Jeep Exclusive had a unique opportunity to harness our club's resources, along with the skills and time of our members to work on a special project to raise significant funds for one of our annual causes – Wheelers for the Wounded – Texas. It all began when a gentleman reached out to AJE's "Contact Us" link on our website with this message – "I have a 2001 Jeep Cherokee that needs some TLC. It's not for sale but I am considering donating it to a group that could do something CHARITABLE with it and make the world a better place. Does this sound like your group?"
We started a dialogue and one thing led to another. Soon, both of our club sponsors (Baldy's Off-Road Specialty Shop and Reid's Triple T) were on board to assist, with Baldy's arranging transport of the XJ from Arlington to their shop in Cedar Park for a full inspection and Reid's assisting with titling and handling sponsorship of the raffle to raise funds for Wheelers for the Wounded – Texas.
Club members immediately began working on a laundry list of maintenance and repair items identified both by the previous owner and the Baldy's inspection. For a vehicle over 20 years old, our little XJ was in remarkably good shape, but did need some TLC. The previous owner had provided us with some maintenance supplies and the AJE board voted to use club funds to purchase everything else required to get all systems on the XJ into good working condition.
Club members also started reaching out to vendors seeking donations of upgrade parts. Since Wheelers for the Wounded – Texas is deeply rooted in the off-road community, AJE didn't want to simply provide a "cleaned up" stock XJ for their raffle. We wanted to build a vehicle that the lucky winner would not only be proud to drive on the street, but that would also be fun to drive and more than capable in off-road situations.
Below is a list of all the upgrade parts and services that were generously donated to this project by many vendors (please thank them with your patronage!) and another list of all the work performed by AJE club members donating their skills and time. Over the course of the build, AJE club members donated hundreds of hours of their time, AJE spent almost $2,000 of club funds on repair and maintenance parts and supplies, and vendors donated over $10,000 in parts and services.
Upgrade Parts & Services Donated by Generous Vendors
RockJock 4×4 donated their ELITE ANALOG DEFLATOR which features a precision 0-30 p.s.i. stainless steel liquid filled gauge accurate to 0.5 p.s.i., a rubber protective cover, a swiveled ended hose, long deflator fitting to allow use with beadlocks, a quick adaptor for simple tire pressure checking, and a high quality zipper case. They also donated their DIGITAL EZ-TIRE DEFLATOR PRO which features an illuminated digital gauge, extended tip for easy use on beadlock wheels, a light on the back so you can find your valve stems in the dark, and a hard plastic storage case.
Revolution Gear & Axle donated their JEEP XJ 1996-01 4.56 GEAR PACKAGE (C8.25-D30 SHORT PINION) WITH TIMKEN BEARINGS. This kit includes: front and rear ring and pinion gear sets, with top quality Timken bearings and master install kits containing: pinion seal, pinion shims, carrier shims, pinion nut, gasket or sealant, preload shims or crush sleeve, ring gear bolts, gear marking compound, & loctite.
Baldy's Off-Road Specialty Shop donated a FULL VEHICLE INSPECTION to identify all needed maintenance and repair items, INSTALL LABOR on new steering knuckles and new differential gears, PARTS & INSTALL LABOR on a new alternator, ball joints, and O2 sensors, an ALIGNMENT to ensure proper steering after all the upgrades, a TIRE ROTATION CERTIFICATE, and a 12 MONTH / 12,000 MILE WARRANTY covering any defects in material and workmanship for all repairs and upgrades made to the vehicle by Baldy's and Austin Jeep Exclusive.
Maintenance / Repairs / Enhancements by AJE Members
Below is the list of maintenance and repairs performed by AJE members using parts and supplies provided by the previous owner or purchased using club funds.
Replaced Oil Pan, Oil Pan Gasket, Rear Main Seal, Oil Filter, & Engine Oil
Replaced Transmission Pan Gasket, Transmission Filter, & Transmission Fluid
Replaced Power Steering Pump, Pulley, High Pressure Line, & Power Steering Fluid
Replaced Starter
Replaced Serpentine Belt
Replaced Lift Gate Bumper Stops
Replaced Driver Front Door Check & Pins
Replaced Passenger Rear Grab Handle
Repaired Transmission Line Leak
Repaired Power Steering Low Pressure Line Leak
Installed Missing Rear View Mirror
Removed Side Molding & Adhesive
Repaired Front Differential Breather Hose
Replaced AC Compressor, Dryer, Refrigerant, Seals, & Valves
Replaced Leaf Spring Shackles
Replaced Vacuum Hose Elbow
Replaced Front Sway Bar Bushings
Relocated OEM Fog Lights to New Bumper
Repaired Transmission & Transfer Case Position Indicators
Replaced Front & Rear Wiper Blades
Removed Donut Spare, Cover, & Bracket
Installed Flip-Up Front License Plate Holder On Hawse Fairlead
Reupholstered Driver's Seat
Replaced Center Console Latch & Mounting Bracket
Replaced Front Bump Stops
Replaced Passenger Side Front Axle Brackets
Reupholstered Headliner & Visors
Repaired Lift Gate Wiring Harness
Replaced Rear Sway Bar Links & Bushings
Installed Rocker Guards
Removed Factory Badging & Pinstriping
Repaired Driver Front Door Wiring Harness
Replaced Rear Bump Stops
Installed Missing Lift Gate Latch Bolt
Replaced Upper Control Arm Bushings
Flushed & Replaced Brake Fluid
Drained & Replaced Wiper Fluid
Greased All Zerk Fittings
Replaced Front Door Speakers
Painted Roof & Rocker Panels
Replaced Under Hood Lamp
Replaced Front & Rear Windshield Washer Pumps
Performed Interior & Exterior Detail